Hydrogen energy is known as the "ultimate energy" in the 21st century. It has the characteristics of high efficiency, high pressure, environmental protection and small size.In recent years, under the guidance of the national hydrogen fuel cell strategy, the United States, Japan, Korea, the European Union and other countries and regions have provided long-term, stable and efficient support for the research and development, demonstration and market cultivation of hydrogen energy and fuel cell technology. The international hydrogen energy and fuel cell technology has made considerable progress, and the industrialization window is approaching.China also attaches great importance to the development of fuel cell technology. In the《Strategic Plans of Energy Conservation and New Energy Vehicle Industry Development (2012-2020)》and《Made in China 2025》, it is clear that we should vigorously develop fuel cell vehicles.
Hydrogenation stations are the infrastructure to provide hydrogen for fuel cell vehicles, and the number of hydrogenation stations in China is also increasing.June 5, 2019 is not only World Environment Day, but also the inauguration ceremony of the world's largest and highest-ranking hydrogenation station (Yilanjinshan hydrogenation station).As the only domestic supplier of ultra-high pressure valve fittings for hydrogen energy applications, SITEKE is the largest and highest-ranking supplier of full-scale hydrogenation stations in the world.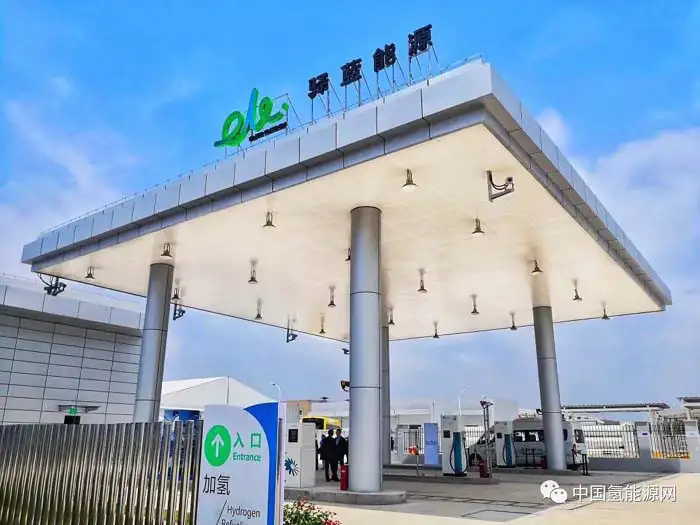 Yilanjinshan Hydrotreating Station
The daily hydrogen supply capacity of Yilanjinshan Hydrogen Station is 1920 kg, which has two kinds of filling pressures of 35Mpa and 70Mpa. All the pipes and joints used in the hydrogenation station are supplied by SITEKE and the product performance is consistent with the international first-line brand. Shenzhen Siteke Pneumatic Hrdraulic Co., Ltd has mature industry experience in hydrogen industry, excellent production and R&D technology team, high-quality products, well received by customers, SITEKE will make greater efforts to serve China's hydrogen industry.
Yilanjinshan Hydrotreating Station is provided by Shunhua Shanghai with overall technical and equipment solutions. It adopts Shunhua's new generation hydrogenation process, equipment and international advanced compression technology.On the basis of many years'experience in construction and operation of Shanghai Shunhua Hydrogen Station, a comprehensive process upgrading has been made for hydrogen filling, storage, compression and control. Redundant design of pipeline valves enhances the intrinsic safety of the system, changes in intake modes enhance the system safety and facilitate expansion, optimizes the ratio of hydrogen storage and compression equipment, improves the efficiency of intake and decreases. Low energy consumption, high modularity to reduce construction and operation and maintenance costs, centralized control to improve system response speed and achieve deep customization.Shunhua's new hydrogenation process and supplier system will effectively enhance the safety, reliability and reduce operating costs of the hydrogenation station.
Ultra-high pressure hydrogen valve fittings
Ultra High Pressure Hydrogen pipe
SITEKE has become the only domestic application supplier in many hydrogen energy construction projects. The product has excellent quality, good reliability and timely delivery, which greatly reduces the cost for customers and is well received by domestic customers.
Hydrotreating station、SITEKE、Ultra-high pressure valve fittings、Valve fittings of ultra-high pressure pump、Specialized suppliers of hydrogen energy applications